Divine Light Mantra - a loving short mantra that you can perform anytime.
10 Minute Relaxation Breathing Exercise
© Rev. Kimba 2000
The first and most important step is to make yourself comfortable - this exercise can be done either sitting or laying down. Concentrate on your breathing; in and then out. If you have any stray thoughts that enter your head/mind say directly to them *thinking* and let the thought be swept out.
While maintaining your even gentle breathe, feel the energy moving to all the tense and tight muscles in your body. Softening them and then letting them go to their natural state. Ease the stress and hecticness of your day out with each exhale.
When you are ready and feel more refreshed, take one last deep inhale, and slowly exhale out any residue of negative energy.
Come back to this 10 minute meditation whenever you feel the need to just time out from the world!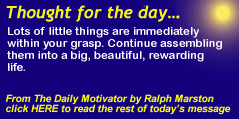 Cleansing Chakra Exercise
© Rev. Kimba 2000
This is a short but effective way of helping to cleanse and align the chakras. You can do this exercise to cleanse just one or all points. This will work fine for either objective.
Start by getting in a comfortable position (either sitting or lying down) and closing your eyes. Visualize a picture in your head. Anything will do. Look at all the vibrant colors in our picture. Slowly pick out the colors of violet or purple, as we will be starting with our crown chakra.
Imagine these colors of purple swirling around you; drifting through space as if they were feathers. Picture a small cleaning brush coming in and gently cleaning your color purple; dissolving any grime, dirt, or build up. Watch as the imperfections disappear. Holes are mended as if by magic. Tears and rips are all sewn. Picture your color purple as vibrant and vivid as any purple you have ever seen. Place this purple at the top.
And so we start our rainbow... Do this with each color: blue, sky blue, green, yellow, orange, and red - until your canvas is aligned from the top with your violet, to the bottom with your red. Focus on keeping these colors centered and aligned, while you meditate.
Meditation Video
Please Note
The video itself or the links (PayPal) at the end of this short video are in no way associated with Kimba or Kimbas Angels. This video is for meditation purposes only. Thank you.